Chiropractic Advantage Center in Robinson Township
How Chiropractic Advantage Center Came To Be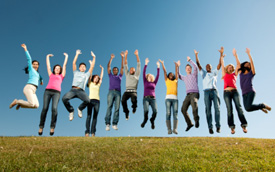 Chiropractic Advantage Center was established in 2002. At this time, the Robinson Township area was really growing, expanding, and adding new business to its already thriving community. Dr. Eddie lives close to Robinson Township, and he and his family spent a lot of time in the area shopping, eating, attending church, and participating in community events. His son even attended preschool in the area. This was the perfect place to start a chiropractic office.
Many patients come to us for help with neck pain, back pain, headaches, sciatica, numbness and tingling, carpal tunnel syndrome, and herniated and bulging disc injuries. Others visit our office to seek care with extremities such as shoulders, knees, elbows, wrists and ankles. The people of Robinson Township and the surrounding area are so friendly and welcoming. In fact, Dr. Eddie conducted a door-to-door survey before he opened the practice to see if the area would be a good fit for a chiropractic office. The neighbors he met were friendly, inviting, and extremely helpful. We love being a part of this community!
From the time we opened our doors in 2002 and the first patient walked in, we wanted to create an environment in our office where everyone feels welcome. Our staff is friendly, helpful, and truly cares about our patients. We treat our patients with dignity and respect. We listen to our patients, as they know their bodies best. In addition, we focus on education. We feel it is important to educate our patients on nutrition, exercise, the immune system, and the basics of chiropractic care and its positive outcomes.
At Chiropractic Advantage Center, We're Different
In addition, we were determined to be a positive influence in our community. We have a community outreach program called Health Matters of Pittsburgh. We provide complimentary educational workshops, lectures, programs, and health fairs to businesses, schools, and organizations in our community. We work with other health care providers in the community to provide free health screenings and to distribute information on a variety of health related topics.
Our Chiropractic Purpose
Our purpose at Chiropractic Advantage Center is to restore your body's own inborn ability to be healthy, to heal itself, and to restore it to optimum function. Chiropractic is based on the scientific fact that your body is a self-regulating, self-healing organism. When under the proper control of your nervous system, all the cells, tissues and organs of your body are designed to resist disease and ill health. The chiropractic approach to better health is to locate and help remove nervous system interference, what we like to call vertebral subluxations, and allow your body to heal from the inside-out.
Pregnant women seek our care to help them maintain a healthy pregnancy, to help relieve physical symptoms of pregnancy, to reduce labor and delivery time, and to relieve any intrauterine constraint as birth approaches. Parents bring their children to our office to not only boost their immune system, but to aid in ear infections, allergies, asthma, colic, ADHD, and other conditions. Athletes come to our office to achieve optimal performance levels for when your body is in better alignment and your nervous system is finely tuned, this can lead to better performance, fewer injuries and quicker recovery.
Your Questions Answered
One of the most frequently asked questions by new patients is "How long is it going to take?"
Every person is different. Therefore, there will be a different answer for everyone. We tailor care plans in our office based upon what is personally going on with each individual patient. Nothing is cookie-cutter. There is also a teamwork factor, where we may ask patients to do things at home to facilitate the healing process. The patients who closely follow the recommendations of the doctors, tend to find that they are feeling better even faster!
Sound interesting? Call Chiropractic Advantage Center now to schedule an appointment and let's see how chiropractic care can help you!